Skip Navigation
Website Accessibility
Dive Master
Begin your dive career with the first step – PADI Divemaster. You're eligible to start your PADI Divemaster training after 40 logged dives and successfully completing the PADI Rescue Diver course. Working closely with a PADI Instructor, you expand your dive knowledge and hone your skills to the professional level. The most fulfilling part of the course is learning to supervise dive activities and assisting with diver training.
PADI Divemasters are qualified to supervise and assist with both training and non training dive activities. Dive centers and resorts around the world need PADI Divemasters to assist with dive classes and guide underwater tours.
Requirements include a minimum age of 18, swim tests, skills review, classroom sessions, current CPR/First Aid and DM internship as well as other requirements.
Cost: $850
Dive Master candidates are required to purchase PADI DM Crew Pak, slates and other training materials.
Call for more Details
Assistant Instructor
Assistant Instructors do more than assist... They can teach several programs including Discover Scuba, Peak Performance Buoyancy and Project AWARE specialties. This 3 day class is a great alternative from full instructor training and the cost of attending the PADI Instructor Examination.

Requirements include a minimum age of 18, swim tests, skills review, classroom sessions, current CPR/First Aid and AI Confined Water/Open Water Presentations as well as other requirements.

Cost: $995
AI candidates are required to purchase PADI IDC Crew Pak, slates and other training materials.
Call for more Details
Open Water Instructor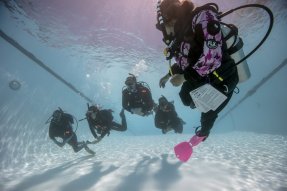 This additional 3 day class completes the full instructor training. Once all the requirements are complete, the candidate is eligible to attending the PADI Instructor Examination.

Requirements include a minimum age of 18, swim tests, skills review, classroom sessions, current CPR/First Aid and Confined Water/Open Water Presentations as well as other requirements.

Cost: $1400
OWSI candidates are required to purchase PADI IDC Crew Pak, slates and other training materials.
Call for more Details